(Singer-Songwriter Gone Marshall talks about his 2020 Greenwich Village song, 'Bazooka Joe Don't Live There Any More')
Greenwich Village Song from New York City…
The Greenwich Village song, 'Bazooka Joe Don't Live There Any More' (aka, 'Bazooka Joe'), is an alternative folk & rock song I wrote as an homage to an old school New York neighborhood hero. The song was inspired by my association and friendship with long time resident of Little Italy's MacDougal Street, Mr. Leonard Cecere. He ran a small but famous mailbox and card shop called 'Something Special' on the corner of Houston Street and MacDougal streets in New York City's SOHO/Greenwich Village.
I'd first stumbled upon Lenny and his shop, 'Something Special' when I was in need of a mailbox at the time. I'd just relocated back to New York City, in a self-funded effort to complete a documentary about street booksellers in New York. (*Note: That movie, 'BookWars', went on to have a decent art house run and international TV sales; it's now part of the Circulating Film & Video Collection at the Museum of Modern Art, NYC)
At the time, I had very little funds, and no real place to live, as I was in between rented rooms as a self-funded indie filmmaker. So, I needed a mailbox first and foremost.
I was living in a small rented room on Morton street in the West Village, so I went scouting around to find a mailbox in the neighborhood.
What I encountered was 'Something Special', an old-school, slightly dog-eared combination card,  gift, trinket and mailbox shop on the corner.  It was a real old time, independent establishment through and through. The old store was something that must have been standard in the village throughout the 50s, 60's and 70s, up until New York really started to develop.
It would have been in the year 1999 or 2000 that I met Lenny and his shop. Even then, New York City was really beginning to change, with many of the dive bars and hangouts of the East Village being converted into condos, and the central village area becoming more posh and upscale. It was a far cry from its scrappy 1950's/60's roots.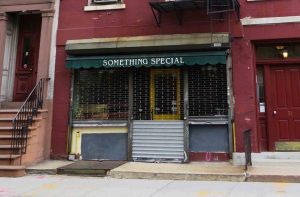 Yet, here was Lenny and his shop, 'Something Special'. His shop was like a time capsule, not deliberately so, I think, but an actual neighborhood shop and corner store which had been planted there for decades and was still going strong.
Neighborhood Heros and Celebrities…
Lenny and his wife, Lucy, were long time, original residents of that corner of SoHo-Little Italy, where it just meets up with the Village. They were beloved by all. Basically, they were neighborhood heroes, as far as I could discern…
I didn't realize this at the time, as I was just seeking a mailbox at first… it turns out that a lot of famous people (celebrities, writers, you name it) had mailboxes at Lenny's shop too.  Other notables who didn't have a mailbox there would stop in for a coffee, or donut, or just to shoot the breeze with Lenny.  I guess celebs needed a nondescript mailbox, and folks who appreciated the 'real, old-school New York' would stop by Something Special just to remind themselves of the original neighborhood spirit of the city.